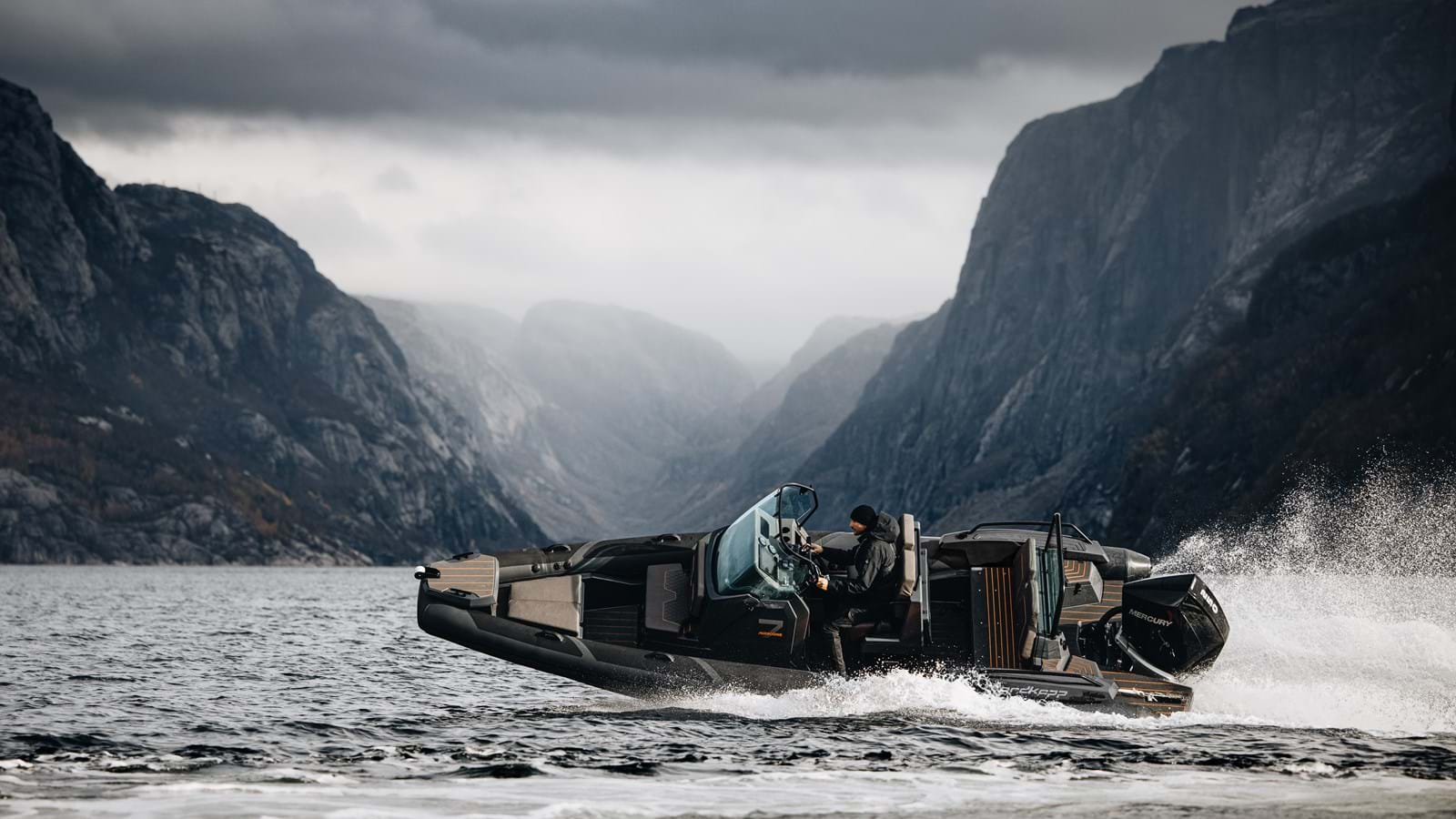 World premiere of the Nordkapp Airborne 7
On the 12th of March, Nordkapp launched a completely new generation of RIB, the Nordkapp Airborne 7. This boat is the first in a completely new RIB-series from Nordkapp, and there are several more models to come. This is a completely new initiative from Nordkapp, which combines all the practical features of which the RIB is famous with all the smart features and solutions you already know from existing Nordkapp models.
The new Nordkapp Airborne 7 has been testet thoroughly in rough environments in Norway and will be available for the Norwegian market from the spring of 2021. The Airborne 7 is developed as a driver oriented RIB. You will quickly recognize the driver experience from our glassfiber hulls, combined with the characteristic steady and stable feeling of a RIB. The pontoons are positioned higher at the stern and designed to give you minimal drag and a comfortable driving experience. This makes the Airborne 7 a perfect combination of a practical RIB and well suited boat for day trips. The Nordkapp Airborne 7 can be delivered with optional equipment like sprayhood, canopy, fridge, sunbed, bowthruster and anchor winch. See more of the boat here.
Nordkapp Airborne er første modell ut i en ny satsing fra Nordkapp Boats. Båtene er gjennomtestet i røffe norske forhold og blir tilgjengelig fra våren 2021. Med Nordkapp Airborne 7 har vi utviklet en førerorientert RIB. Du vil kjenne igjen føreropplevelsen fra våre glassfiberskrog, kombinert med den typiske stabiliteten for en RIB. Pontongene på Nordkapp Airborne 7 sitter høyere og er designet for å gi deg en sikker og god kjøreopplevelse. Dette gjør båten til en perfekt kombinasjon av praktisk RIB og komfortfylt dagsturbåt. Nordkapp Airborne 7 kan leveres med blant annet kjørekalesje som kan utvides til full kalesje, kjøleskuff, solseng og baugpropell og ankervinsj. Dette er detaljene som vil gi deg følelsen av en helt ny generasjon RIB.